Hello everyone.
I told Loyd, John and Bob that when this is coming together I will be adding my wrk to the forum. Between work on making things for the segmenting I have a lot of time on hauling snow out from my yard and road. Just now it looks like this outside.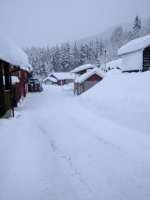 It is just 1 meter of snow around here now.
And up the road from the main road.
That is a little bit of nothing.
I have been into all kind of woodwork. From woodworking in a factory, sawmill, lumberyard and building houses and cabins.
Turning since the 1980's and I have tried the most. Now it ws time to really dig into segmenting. I got the taste of it about 15 year ago but I got lost in too many details and put aside all my ideas. I have had Woodturner Pro and Segmenting since then. And then I saw Loyd's homesite after a letter from the west coast - I was hit by the flue again!! I have got good help from all three of them plus found some very good items from China too. All is now coming in and I have started to assamble a few things.
Is it interesting to see all here or along the way of doing it?
I have made up my mind to go for Bob's idea and table. The setup feels good and as I develope my skills I think it is a good start to begin with. Or what you think?!
I'll come back after the weekend and I think I'll have a visitor during the weekend from Bergen and Askøy - Øistein Jensen. It will be fun to show him what I have started on.
Till next time...........