Administrator
Staff member
I'm in the process of updating my open segment fixture.
I want to up my segments.
I have a Driskell style fixture with index wheels about 8" diameter. It seems OK up to about 24 segments but over that I don't feel the spacing is accurate enough (index plate needs to be larger I think).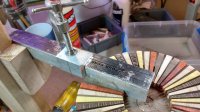 I also, have Seg-Easy open segments plates and they work well, but only go up to 48 segments, (they too have their inherent problems.
I've seen Ray Feltz's fixture
And Tom Lohman's fixture
The one I am working on is similar to the fixture Tom Lohman, with my own twist on things.
What are you using??
Any suggestions for improvement?
What works and what doesn't work?
Give me ideas be fore I start pounding nails and cutting wood