Administrator
Staff member
Open-Segment Bowl - Flower
This piece consists 2 rows of 48 closed segment, 20 rows of 48 open segments per row and a one piece solid base with a total of 1,057 separate pieces of wood
The top two are solid segmented rings one is Paduak and the second is Yellowheart, I may add a thin Maple we'll see.
The bottom base ring is a solid Maple ring
The body background is Maple.
The floral design is made up of Yellowheart, Padauk and Chakte Viga.
Finished size is approximately 9 5/8" inch diameter by 5 5/8 inches deep.
With support files
Under construction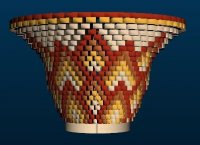 Last edited: