Bob Beaupre (fellow form member) and I had been conversing in another thread in regards to making a flower type pattern in a open segmented bowl as well as trying one in a closed segment as well. I am looking at doing the closed segment bowl. The bowl that I would like to try is from one of Lloyds sample files. It has a 48 segment ring. I also want to modify the shape to have more of an ogee curve.
The benefit of working together as Bob pointed out would be the ability to bounce ideas off each other, to share our successes and our failures and to hopefully gain some words of wisdom from our fellow Forum members.
I will let Bob explain the details of his project.
I'm thinking a 48 piece ring is going to be a challenge to start with. I did cut the first set of pieces today. I am using the Segeasy sled but I do not have the wedges. I set my sled with a combined angle of 7.5 degrees as each side of the segment will have 3.75 degree angles. I tried many cuts and adjustments of the segment width to come up with a measurement of 0.218 inches.
From there it was to clean up the fuzzies and form the circle.
The next question was how to glue it and clamp it and maintain a circle. I tried hose clamps and strings to no avail. I rounded it up as best I could and took a measurement across. I then mounted a piece of MDF on the lathe and cut out a circle that size. I split the block in half for easier positioning. I thought I could put some light clamping pressure on the blocks as well as adding some pressure from above to keep the ring flat.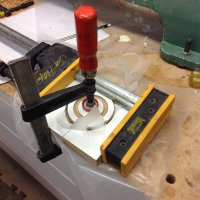 And that is where my project sits at the moment.
Oh yah, I did say we would share failures as well. It was more a frustration than a failure but with my 10 thumbs and all those tiny pieces applying glue and positioning them when they are all sticky is an exercise not for the faint of heart.
I'm not sure how far I will get with this project but fortunately the pieces get bigger as the bowl gets taller. Working 48 pieces is definitely a challenge but I like the detail that it brings.
Last edited: