After a number of emails back and forth with Lloyd I have decided to try to reproduce his amazing Eagle Bowl. I have spent many sessions trying to figure out the actions to produce the eagle and I think I have finally wrapped my head around it. I want to make mine about 10 inches in diameter and 5-6 inches tall. This meant scaling down the eagle sample to give me a segment of about 4.24-4.5 inches in length. Lloyd graciously offered to look at my files and did some Sketchup images to show me a few issues with my size and design. Having his pointers and suggestions will make my build go pretty smooth I'm hoping.
Normally I would have built the lower bowl and then the feature ring but again Lloyd suggested doing it in reverse. Once I am happy with the feature ring I can build a bowl to match the final size.
I finally got a bit of shop time today and took my 5/4 wood from rough to finished sizes and to the first glue up.
I will post pics as I go but please if anyone has suggestions, concerns or if you have tried this design I would be interested in hearing from you.
I used 2 inch Walnut on both sides, 3/16 maple and padauk and a 3/8 maple centre strip.
Thanks.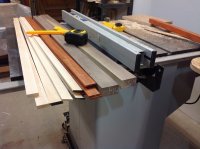 Last edited: