The story so far
Ok i plan on posting how i like to finish a project using multiple layers of finish and then sanding and polishing so i figured i may as well post the construction of the vessel too. unfourtunatley didn't fully document the construction of the feature ring so if its a bit vague i apologise.
the feature ring is a barely twist design constructed using the scroll saw and the stack cutting method.
here i have stacked the timbers i am going to use to construct the feature ring meranti as the background and the walnut and sapele as the rope/barley twist each layer is 8mm thick. On the top is my repeating pattern i drew out in cad, to get the print out the correct size i use a program called big print that lets you scale anything to the size you want it down to the mm.
Once I've stuck all the layers together with double sided tape i cut along the pattern with a number 3 blade on the scroll saw at 90 degrees for this pattern. I then pull then separate the peices and using a mixture of the layers i am able to create the design.
was messing with pyrography to highlight the pattern
i am still undecided, i kind of think i might look like i was trying to hide bad joints if i did
Once I've glued the new layer together i laminated it onto a backing piece of timber in this case its meranti and then i can finally cut my segment very carefully to construct the ring, when cutting out the segment i have to be very careful to get the pattern in just the right place that when glued the pattern lines up correctly. To glue up this ring i use the rub method by where you put the glue on then rub the two pieces together till you feel it grab and make sure its all line up, then put to one side and leave for a bit.I found that by the time id done the last one the first one was dry enough to glue up again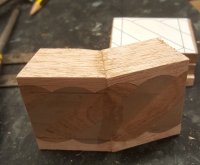 pair
ring complete
i then mounted the ring on the lathe using a plywood disc and hot glue and flattened the ring and added the two accent layers to each side and trued up the face to revel the design
not too bad in all but i have one bad alignment which was kind disappointing but its not easy getting them all perfect on continuing pattern, guess that side will go to the wall
yesterday i started making the rest of the vessel this is the shape iAm going for
after 4 hours i had all the rings cut and glued up (feature ring precariously on the edge of the saw lol, pat on the back martyn)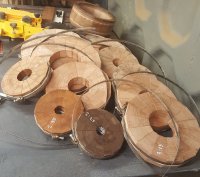 i wrote the time at which each ring was glued up thinking i could make a better assessment if the glue was dry after clamping up, but it took that long it was irrelevant anyway by the time id Finnish
Towards the end of the day i started gluing together the ring, for my base I've decided to use a maple plug surrounded by a walnut ring here i cut the plug and the ring at a angle of 12 degrees. originally it was meant to be the sapele ring but on flattening the ring i decided the walnut grain was much nicer than the plain old sapele so i reversed it, so its now walnut on the very top and bottom for the vase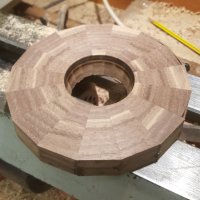 Last edited: