Administrator
Staff member
Started a new open segment project.
It's been a little rocky starting.
This will be 60 segments
35 rows
2040 pieces
About 9 inches tall and 10 inches diameter
I'm using one of Tom Lohman's designs that he has in his downloads you can purchase, so I will not be showing the painted design until I have finished the project. However, the design stikes me more as a Native American hence the name Acoma. I have also changed the profile to be more Native American
OK, problems encountered so far:
New open segment fixture, leaning how to use it properly
First time doing a 60 segment vessel
Learning curve with Segment Pro
First try at row one.
Sure looks wrong. Went back to Segment Pro, watch where that last dot is placed.
Here I had it way to low and the bottom row ID is way to big.
Next try: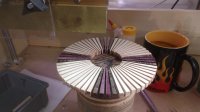 Looks much better
But alas we had problems flattening the ring and had pieces flying all over the place. Glue them back on and try again and pieces go flying.......
Finally said screw it and cut them off and started new.
This time I went thru everything at least two and three times. Layout is Segment PRO, same layout in Woodturner Pro, same summary in separate excel spreadsheet. Until I had all three reading the same (almost)
Cutting the parts, lets looks at that. Fit it into the fixture. If I lay a straight edge on the outside it should hit center right!
Well it did but it was 0.25" farther out on the OD radius than the plans called for. So re-adjust the cutting angle and re-cut parts
Next remove my .012" shim from my vertical leg as I was getting to much flex.
Add a second vertical support lock to my shelf to make it more stable.
Do row one over:
Looks good.
Add row two:
Looks good
Use Tom Lohman's advice sand those little buggers at the bottom rather than use a tool. Looks good:
Looks good add row three:
OK your up to speed this is where we are this afternoon.
It only took
two weeks
and a bottle of whiskey.
Last edited: