Sorry, I initially posted this project in the wrong thread and then I think I somehow deleted the info as I can't find it. I had tried to post some more pictures but their orientation was wrong so I deleted them.
Anyway, my newest project is a game board called "Tock". It is basically and enhanced version of a game called Trouble but is played with a deck of cards in addition. You can Google "Tock Game" and see where I am going and understand the rules. Some of the examples on the internet are quite large and some are very plain. This is where Lamination Pro comes into the picture with a lamination and a radial square design. I again used my laser from my drill press to help align the cuts.
First lamination
First Chevron cuts at 1 inch
Flipped every second one.
The big glue-up
The first 45 degree cuts
The first two quarters together
A bit of sanding to mate the pairs.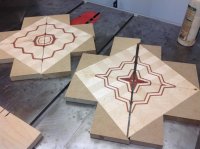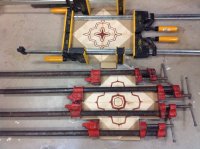 Hopefully today I will sand the boards and get ready for some small inlay and drilling a lot of holes.