I know it depends on how thick I make the board to how tall or whatever to make a bowl or maybe platter or vase,
How do I cut the rings from each board??
So far we have just glued up wood and made a regular vase and bowl not never like a bowl from a board type.
We are hoping that others will send us their scrap lumber to do this kind of project by gluing it up maybe 3" thick and cutting it 1/4" or even various thickness of 1/8, 1/4, and 3/8 to get different color types.
There were three of us who glued up wood that 3 people sent and we used 3/4 of the wood sent. I turned the vase and the vet turned the bowl. I told him several times how proud I was of his work and how it was shaped. I posted this in LJ's and he seen the comments there and I now think he believes me.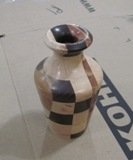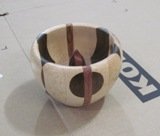 Thank you