I wanted to build a Driskell type fixture but I also wanted to upgrade the basic design. My main goal was to keep the cost as low as possible as well.
The heart of the fixture is the index plate at the bottom. I elected to have a 16 inch diameter disc with index holes for 144, 120, 96, 60 & 48. I also had made a reference plate that also had the main index holes as well as a half way hole between each ring of holes. This enhancement will effectively double the capability of the index wheel. It will also provide the offset for every second row of segments.
I approached a fellow Guild member who had done some laser engraving for me on some trophies I had built. I gave him the basic information for my index wheel and he did the rest. And an awesome job he did at a very affordable price. It was made with 1/4 plexiglass.
I also purchased a 1 x 8tpi bolt & nut as well as some T-track with bolts and two knobs. I purchased a 12 inch cast aluminum Lazy Susan.
My first step was to cut a MDF base and a 16 inch circle of MDF for the turntable. I drilled a 1 inch hole in the centre and then mounted it to a disc on my lathe. I had to put it on the outboard side as I can only turn 12 inches over the bed. I turned a dado that would allow the lazy susan to self centre on the bottom. After mounting I drilled a hole that allowed me to rotate the disc to reveal the screw holes to anchor the lazy susan to the base. I had also drilled a 1 3/4 hole in the base so the centre bolt had room to rotate.
I mounted the reference plate today as well.
Next session I will design the post to hold the T-track and anchor and support it.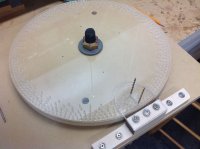 Last edited: